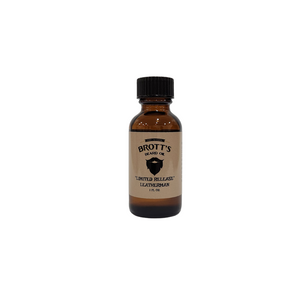 Brott's Beard Care
Leatherman Beard Oil
Regular price
$25.99
$0.00
Unit price
per
Leatherman Beard Oil is a carefully formulated blend of the finest all natural carrier oils, and 100% pure essential oils.  This limited release blend can be described as intense and mysterious, with notes of leather, wood, spice, and more.
Ingredients:  Argan Oil, Jojoba Oil, Grapeseed Oil, Almond Oil, Vitamin E Oil, Peru Balsam, Tonka Absolute, Cistus Absolute, Myrrh, Star Anise, Texas Cedarwood, Oud, Gurjun Balsam, Cypriol, Cinnamon Bark, Vanilla CO2, and Vetiver.
5 stars
Unique and doesn't disappoint!
The scent does last longer than most. Would definitely purchase again. 5stars
Another Knock Out
This is my absolute favorite scent so far! The leather smell with the cinnamon notes is DIVINE! And it lasts, for me at least, all day long. From the time I put it on to the time I go to bed, it stays in the best way possible! Would HIGHLY recommend to anyone interested!
---